Xocai
Xocai is a trademark name for a healthy chocolate line from MXI Corp. The Founder and President of MXI Corp is Jeanette Brooks.

Originally, Brooks started in the education field. During that time she became involved in the network marketing field. As her networking experience grew, she developed her unique leadership and sales styles. Brooks has founded several network marketing corporations as well as handling the development of many of the products sold by these firms and designing much of the packaging and marketing materials.
This very creative woman has become a highly successful business person. Brooks has brought health and wellness to a new level with her products. The product line is the result of her efforts to find a healthy way to produce chocolate which tastes great and still maintains its natural healthful properties.
Andrew Brooks is the co-founder of MXI Corp as well as its Chief Operating Officer. His background includes the founding and directing of a health food distribution company in western Canada which provided weight loss products which were safe for diabetics. His interest in health and wellness as it relates to diabetes and obesity has fueled his rise in this field.
Bottom line: MXI Corp is a highly successful network marketing company with a truly healthy product line thanks to the efforts of a very creative team, Jeanette and Andrew Brooks.
No, one doesn't have to be a network marketing sales associate to enjoy the benefits of this super product. Anyone can buy Xocai chocolate products. Of course, if you love chocolate and can't stop talking about it, why not make it your job to share what you love with others and make a little money on the side?
Healthy Chocolate?
So, what is it that makes it truly healthy chocolate? First of all, it is made from pure unprocessed cacao that is blanched, unfermented, sun-dried, non-roasted, non-alkalized, non-lecithinized, and cold-pressed. This is a "mouthful", but the short version is that MXI Corp holds the rights to proprietary processes which allows them to maintain the integrity of the antioxidants found naturally in unprocessed cacao.
Antioxidants help the body's natural defenses fight the effects of free-radical damage by pairing up with the unpaired electrons causing oxidation in our bodies. This oxidation is linked to many common health issues. Without antioxidants, we'l l just become sicker and weaker.
Commercial chocolate is processed with heat over 100 degrees which negates the beneficial properties of the cacao in addition to having processed sugar, milk, fats, fillers, waxes, and preservatives added to the mix. To gain the most health benefit from chocolate look for products which use unprocessed cacao.
Vegan-, Vegetarian-, and Diabetic-Friendly Chocolate
Are you having a hard time finding a "clean" chocolate? By that I mean no artificial flavors, colors, no preservatives, no fillers? How about a low-glycemic index sweetener? You might want to try The Nuggets. They have a high ORAC (antioxidant value) and they taste great! The nuggets have a flavor more similar to milk chocolate. For those who love the more intense flavor of dark chocolate, try The X Power Squares. Stronger chocolate flavor combined with acai berries and blueberries for a super-antioxidant blend.
Omega-3
Are you looking to add more Omega-3 fatty acids to your diet? Xocai Omega Squares combine flaxseed, acai berry, unprocessed cacao, and specially encapsulated plant-based Omega-3. Wait. Plant-based Omega-3 … no fishy taste … AND CHOCOLATE?!? Get healthy and have your chocolate too!
Probiotic? No, XoBiotic
Do you use probiotic supplements for colon health or immunity boosters? You might want to try Xocai's XoBiotic Squares. Tests have shown chocolate to be a superior delivery system for probiotics over milk. If Xocai XoBiotic is properly stored, the shelf-life of the chocolate and the probiotics used here are about the same. Can you believe it? Eat chocolate, get healthy! Amazing!
Snacking Healthy
Xocai has recently come out with another "first". A healthy peanut butter cup with milk chocolate. Same great chocolate with high antioxidant value plus a bit of "yum" for those "sweet snack" cravings.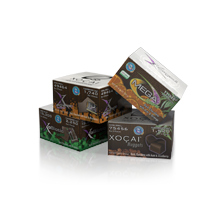 On The Go
Whether you work from home or an office, whether you hardly make it to the gym or are an extreme athlete, a handy, healthy supplement is a super addition to your day.
Xocai Activ comes in powered form and makes a super chocolatey drink with the addition of warm (not boiling) purified or bottled water. The added flavor of acai berries, blueberries and Concord grapes makes this a truly one-of-a-kind drink experience. Stored in a cool, dry place, this product can remain for up to one year before "activating". Take it along to the office or use at home. This is great for the purist, too! No artificial colors or flavors and no preservatives!
Or do you want a quick energy boost to complement your active lifestyle? Grab a can of Xocai's Xe Healthy Energy Drink. Pop the top and away you go. Again using cacao and acai to keep that ORAC value high plus a superfruit blend for a unique flavor experience. Right on the label it states "75% juice. No artificial flavors, colors, sweeteners, preservatives or refined sugars."
Weight Loss Support Is weight loss your goal? Try Xocai High Antioxidant Meal Replacement Shake. Coupled with high antioxidant foods your can be well on your way to losing those unwanted pounds and boosting your energy. Add some exercise and the X Protein Meal Shake for an added boost to your weight loss plan.
Chocolate Connoisseurs
When chocolate first arrived in Europe, it was available only to the nobility and primarily in a liquid form. Today, available to the masses chocolate has become a favorite treat for the masses in its solid form.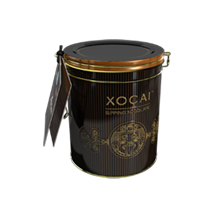 Echoing back to its liquid roots come taste chocolate as never before. As espresso is to the coffee connoisseur so shall be Xocai Sipping Xocolate … the ultimate chocolate experience. Good health and superior flavor.
For ordering Xocai products or for information on how to become a distributor and begin your own chocolate business, go to Xocai