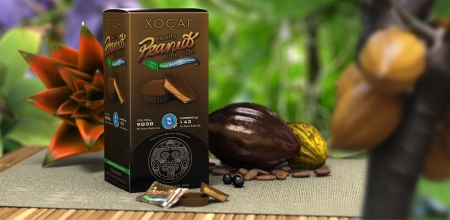 Xoçai® Peanut Butter Cups
Xoçai® Peanut Butter Cups
Snacks Sabotage Our Health
Unhealthy Snacks.
Why do we love to consume them? They're not good for us. They're a huge contributor to obesity, low energy levels, and other modern lifestyle diseases. It doesn't matter what type of snacks we are talking about. The typical snack food options are high in sugar, fats, simple carbs, chemicals and artificial flavors and colors. And to make matters worse, in our attempt to subdue our snack-time cravings, by indulging in unhealthy snacks it only fuels the cravings.
Delicious and Nutritious
Sure, there are healthy snack options, but most of these really don't satisfy the "sweet tooth" cravings most of us experience. Healthy snack foods typically don't offer a delicious, rich-tasting treating. Looking at the candy and treat aisles in the market show all kinds of sweets to tempt our taste buds beyond the basic chocolate bar.
Xocai offers many great tasting, chocolatey sweets which are actually good for you, but, so far, they have only offered the basic flavor of wonderful dark chocolate. I love chocolate myself and have seriously enjoyed every Xocai product I have tried, but I find myself wanting to dip my chocolates in the peanut butter jar for a change of taste. Well, now I don't have to get my hand all sticky raiding the peanut butter jar. In response to our craving for that great taste combo: chocolate and peanut butter, Xocai has gone one better.
Introducing the Xoçai® Healthy Peanut Butter Cups the 1st high-antioxidant and healthy milk chocolate peanut butter cup. A luxurious, irresistible and health-promoting snack experience. And only 80 calories each! Sounds like healthy snack and sweet treat have met their match! Here's a way to snack healthier. And get this…it's delivered right to your home or office. And, if you're looking for that super easy home business Xocai offers that too.
Talk about the healthy chocolate you have come to love for the health benefits as well as the amazing taste and you'll have a great start to expanding your business…or just sign up to buy Xocai products for your own use and get wholesale pricing. How sweet it is!