The Hershey Company
Milton S. Hershey was raised in rural Pennsylvania. He lacked a formal education and by the age of 30 found himself nearly bankrupt. Despite this rough beginning, he went on to become a very successful entrepreneur whose name and products are known worldwide. He not only built a huge business and factory, he also built an entire town which bears his name.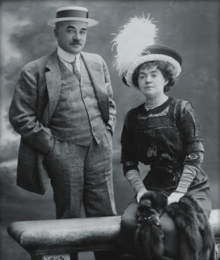 Milton's success was slow in coming. He apprenticed as a teenager with a Lancaster, PA, candy maker and started his own candy business in 1876 in Philadelphia. This first attempt at business failed after six long years of hard work. Working with a confectioner in Denver, he learned the caramel business.

His second attempt at his own business was in New York City, but it also failed. Learning from his experiences, Milton moved back to Lancaster and gave another go at the caramel business. The success of the Lancaster Caramel Company both in the U.S. and Europe allowed him to employ 1400 people and made him one of the area's leading citizens.

In 1893, at the World's Columbian Exposition in Chicago, the successful caramel man became interested in the art of chocolate making. With German machinery purchased at the Expo and shipped to Lancaster, he began making chocolate coating for his caramels.

The now-astute businessman observed the growing demand for chocolate alone, so it wasn't long before he established the Hershey Chocolate Company (HCC). Through years of trial and error he finally hit upon the perfect combination of milk, sugar, and cocoa to produce his own recipe for milk chocolate. He then began mass producing and marketing his new product. That sweet treasure which had previously been reserved as a luxury product for the rich had become available and affordable for the masses. Introducing the Hershey bar.

Having now become very successful at a second business, the chocolate mogul decided to sell his caramel company... for $1 million... unheard of in 1900! He was then able to focus entirely on making chocolate. He realized his need for a larger production facility and, so, began looking around for the best spot to build his new factory.

He found just what he was looking for in Derry Township. It was close to the port cities where he could have his sugar and cocoa brought in, was surrounded by dairy farms which could provide for his milk needs, and was populated with a hardworking class of people. He broke ground in 1903 and by 1905 the new factory was turning out delicious chocolates in bars, wafers, and other shapes.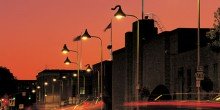 1907 saw the introduction of the Hershey's Kiss with its distinctive conical shape and foil wrapper, however, the familiar paper plume wasn't added until 1921 when machine wrapping replaced the individual hand wrapping in use at that time.

Milton was now even more hugely successful and, learning from his past business challenges, he believed that people who were treated fairly and who lived in a pleasant environment would be better workers. To this end, he began building an entire community to meet the needs of his employees. The town included housing for both executives and ordinary workers, schools, churches, parks, recreational facilities and even a trolley system.

He refused to exploit his workers, unlike some other "company towns", rather he provided for their welfare. Eventually, he added a department store, community building, convention hall, an amusement park, swimming pool, and many more schools. Hershey, PA, has become a popular vacation stop as well as a wonderful place to live and work.

The schools were particularly important to him as he hadn't had much formal education himself and he wanted more for his employees' families. Even as early as 1909, he had established the Hershey Industrial School for orphan boys. Later renamed the Milton Hershey School, it is now also open to girls and educates and houses hundreds of children. It was important to him that his town had only the best elementary and secondary schools.

Over the years, new products were added to the repertoire of the HCC. These included Mr. Goodbar (1925), Hershey's Syrup (1926), chocolate chips (1928) and the Krackel bar (1938). Despite the Great Depression of the 1930s, these products helped the newly incorporated company maintain its profitability and avoid any worker layoffs.

Milton Hershey died in 1945, yet the businesses and town he established continued to grow. In 1963, The HCC purchased the H.B. Reese Candy Company which, located across town, had been using chocolate produced by HCC for their chocolate-covered peanut-butter "penny cups" since 1928.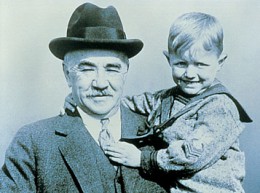 The HCC, has since become The Hershey Company which provides a range of everyday products distributed worldwide. Among the many acquisitions were: San Giorgio Macaroni and Delmonico Foods (1966); manufacturing and marketing rights to English candy company Rowntree MacKintosh's products (1970); Y&S Candies, makers of Twizzlers licorice (1977); Dietrich Corp.'s confectionery operations (1986); Peter Paul/Cadbury's U.S. confectionery operations (1988); and Ronzoni Foods (1990).

A leading North American manufacturer of chocolate, non-chocolate candies, and other grocery products, this amazing company has continued to introduce new products, acquire other firms, and export their products to over 90 countries. Even though it employs approximately 13,700 workers and nets over $14 million annually, the company still holds to the values and vision of the man who started it all and lives everywhere continue to be touched by the life of this one determined man who rose above his shortcomings and circumstances to follow his dream.

Back to the top of Hershey