Rocky Mountain Chocolate Factory
The Rocky Mountain Chocolate Factory is one of the finest examples of chocolatiering. They receive their chocolate from the Guittard Chocolate Company, a 130 year old company spanning four generations and producing some of the most intensely flavored chocolate around. A chocolatier is one who makes confections or candies from chocolate, but does not handle the initial bean to chocolate processing.


"Rocky Mountain Chocolate Factory, Inc. is dedicated to becoming the premier Chocolatier in the United States and the world through a strong commitment to product excellence and the expansion of its franchise system, which can create an exciting business opportunity for the would-be entrepreneur. Rocky Mountain Chocolate Factory, Inc. is a publicly held corporation (symbol: RMCF) that was founded in 1981 and has been franchising since 1982."


On my recent visit to Colorado, I passed through Durango, CO, home to some of the most beautiful country in the world. Of course, I had to include a stop at the RMCF. The first store which opened in May of 1981 was located next door to one of the oldest running narrow gauge trains, the Durango/Silverton Narrow Gauge. Through this small store, the Rocky Mountain Chocolate's humble beginnings in Durango, CO, have expanded to a worldwide presence.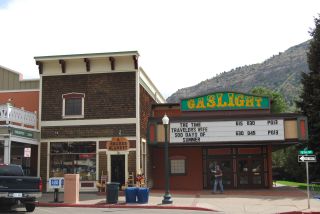 From its original location, this first store was moved down the street to its current location. This store has since been remodeled to reflect the new design of RMCF stores. The update was completed in April 2004. If you haven't seen it yet, what are you waiting for?

Here is a little note direct from the RMCF website:


Visit the store that started it all! The original RMCF located in Durango, CO.


One visit to our store and you'll discover why Rocky Mountain Chocolate Factory is the number one destination of chocolate lovers everywhere. Throughout our store you will discover a fantastic variety of yummy chocolates and confections to satisfy cravings of even the most ardent chocoholic! Watch as we dip crisp apples in thick, bubbling caramel from a traditional copper kettle.


Rocky Mountain Chocolate fashions chocolatey treats from only the freshest, most wholesome ingredients. Like whole cream, real butter and fresh roasted nuts. And we make our candies with only the finest, most intensely flavored chocolate from Guittard Chocolate Company. After 130 years and four generations, the Guittard name still means perfection in the art of making chocolate. Experience the flavor of Rocky Mountain Chocolate candies and confections.


Also located in Durango, CO, is the actual Rocky Mountain Chocolate Factory. According to the RMCF website, this factory supplies over 300 different assorted chocolates, both in bulk and packaged, in addition to other sweets such as nut brittles and gourmet chocolate sauces. All these recipes are prepared by hand. The quality control is also top notch. The average retail price at $18.50 per pound is competitive with like-kind products from other chocolate retailers.


During that same trip, I had an opportunity to visit another RMCF store in New Mexico, as well. As I made my purchases, I noted the beautiful display area and the classy packaging. What better gift idea for the chocolate lover in your life than to share the sweetness of Rocky Mountain Chocolate Factory products on that next special occasion?


Back to top of Rocky Mountain Chocolate Factory